The main element of BAA Online is a programme of webinars. A programme of speakers is being drawn up that will feature experts in their areas talk about: paediatrics, adult rehabilitation, vestibular, implantable devices, music and hearing aids, tinnitus, genetics, health psychology, hyperacusis and BAA member benefits such as the Higher Training Scheme and the Mentoring programme.
The first two webinars are available to book below.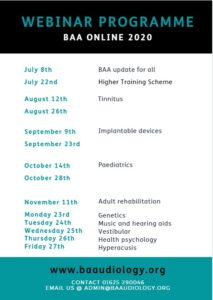 BAA Member Update on Wednesday 8th July is an update on all things BAA and Audiology. There have been many changes and developments over the last few months. Much of BAA's work has been Covid-related and has been shared with Heads of Services. Now, we bring you a webinar update for all BAA members
BAA Member Career Development Webinar on Wednesday 22nd July offers a brief overview of the different schemes from the BAA along with some superb training programmes that can help your career development.