Thank you for agreeing to judge the posters for the BAA Annual Conference 2022.  All accepted abstracts have been asked to send us their poster in advance of conference, all those we have received are available via a downloadable PDF under the categories below.  Full details and a voting form were provided to you in the email containing the link to this page.
If you have any questions please contact lauren.nagle@fitwise.co.uk
Deadline for completion is 03/10/2022.
Posters are in the same order as stated on your excel adjudication form – we still recommend cross checking the title on the poster with that listed on your adjudication form. Please only mark the posters that have been assigned to you (see column E on tab 1)
Top tip
When looking for the relevant poster to judge, click the link to open the collated PDF files for each theme, then select the bottom icon on the left (circled below). This will list the posters in numerical order within that theme. Making it easy for you to find the one you need.
Please note: These files run one after the other. Where files are smaller, you must zoom in using the magnify function at the top of your page.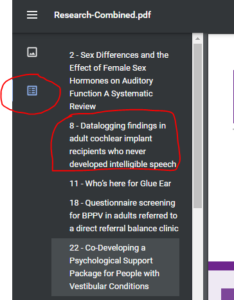 Clinical – 23 posters
Education – 2 posters
Research – 31 posters
Service innovation – 9 posters
Workforce – 3 posters (due to upload issues these are uploaded individually below)
ID 3 – CLICK HERE TO DOWNLOAD
ID 20 – CLICK HERE TO DOWNLOAD 
ID 64 – CLICK HERE TO DOWNLOAD