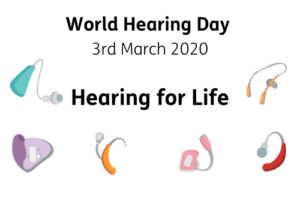 World Hearing Day is held on 3 March each year to raise awareness on how to prevent deafness and hearing loss and promote ear and hearing care across the world. Each year, WHO decides the theme and develops evidence-based advocacy materials such as brochures, flyers, posters, banners, infographics and presentations, among others. These materials are shared with partners in government and civil society around the world as well as WHO regional and country offices.
Key messages for World Hearing Day 2020:
At all life stages, communication and good hearing health connect us to each other, our communities, and the world.
For those who have hearing loss, appropriate and timely interventions can facilitate access to education, employment and communication.
Globally, there is a lack of access to interventions to address hearing loss, such as hearing aids.
Early intervention should be made available through the health systems
Why World Hearing Day matters?

Approximately 466 million people live with disabling hearing loss. An overwhelming majority of them reside in low- and middle-income countries and commonly lack access to required services and interventions. Unaddressed hearing loss is the leading cause of morbidity and poses an annual cost of $750 billion globally.
It is expected that the prevalence of hearing loss will rise considerably in coming decades due to changing population demographics, increasing exposure to risk factors such as recreational noise, as well as the persistence of untreated ear conditions such as otitis media.
Many of the causes that lead to hearing loss are preventable. In children, 60% of hearing loss can be prevented through public health strategies. Those who have hearing loss can greatly benefit from timely and appropriate interventions. Effective implementation of proven strategies to prevent hearing loss and rehabilitation of those with irreversible impairments require a number of public health measures to be put in place, including the integration of high quality, comprehensive ear and hearing care services into national health systems.
Hearing care and hearing loss were highlighted as a public health issue with the adoption of the resolution (WHA70.13) on the prevention of deafness and hearing loss during the World Health Assembly in 2017. This resolution calls upon WHO and its Member States to undertake advocacy through World Hearing Day on 3 March.
What is World Hearing Day and what is it trying to achieve?
World Hearing Day is the largest global awareness campaign on ear and hearing care that calls for action to address hearing loss.
World Hearing Day aims to:
• Promote public health actions for ear and hearing care.
• Stimulate intersectoral partnership for ear and hearing care.
• Raise awareness on hearing loss and care at a national and community levels across the world.
• Encourage behaviour change towards healthy ear and hearing care practices.
Flyers
WHD flyer for people with hearing loss.pdf
Source: World Health Organisation (WHO)