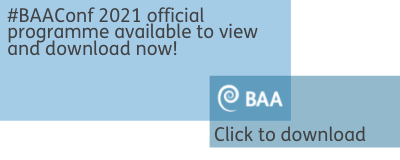 2021 Programme Overview:
The BAA Conference Programme team have worked hard in a short space of time to pull together a conference line up which we believe will provide two days of superb presentations and education that will have clinical impact.
There will be updates from experts in research, overviews of policy updates, service innovations and examples of clinical progress which have taken huge technological leaps in the last 12 months.
As with every conference, we endeavour to ensure that you, our delegates, leave the event with a clear idea of how you can implement what you have heard in your own departments, practice, or career.
Key sessions this year will cover adult rehab, paediatric assessment, tinnitus and hyperacusis, learning disabilities, vestibular assessment and management, technology and health policy updates, neuroscience, service delivery changes, leadership, and careers support. We also have laughter on the agenda!
Once again, we bring you three parallel tracks, with a mix of Keynotes, invited speakers and free papers and a whole track of technology, product, and software updates. Following the success of the dementia clinic in 2019, this year we bring you a learning disabilities clinic where you will be able to review and see resources and ideas on display for your own clinic and speak to experts in the field.
Day 1:
Following a welcome from President Kath Lewis we are delighted that Professor Kevin Munro, Ewing Professor of Audiology, Director of the Manchester Centre for Audiology and Deafness (ManCAD), Deputy Director of the NIHR Manchester Biomedical Research Centre and theme lead for Hearing Health will be delivering the Adrian Davis lecture. Our second keynote lecture is Dr. Patricia Oakley, a ​strategic ​service and ​workforce ​policy analyst and development specialist with over 35 years' health and public service experience.
After coffee we continue with parallel sessions on tinnitus and learning disabilities, which we know will feature some super ideas and lessons from research that you will be able to use in your clinical practice.
As usual the AGM occurs after lunch. You can hear about what we have been doing in the past 12 months and our plans. You will be able to quiz members of the Board further during the afternoon break at the BAA stand.
The afternoon continues with some vestibular presentations and a track on career development and leadership presentations. We finish the lectures with sessions on IQIPs, some free papers and a laughter session with Professor Sophie Scott!
But the day does not finish quite yet.
At the end of the day's presentations, we invite you all to a 'Celebrate Audiology' session in the exhibition hall. An hour of food, drinks, poster presentations and networking with our exhibitors is planned to ensure you finish the day with a head full of ideas and full bellies.
Day 2:
The second day at conference starts a little differently this year, with parallel sessions running. You can choose from a session on adult hearing loss and cognition or a workshop on the gendered brain followed by a round table discussion on the impact of Covid-19 on our services. Beyond the pandemic: visions for the future will feature prominent audiologists from the four home nations discussing how their services have changed…for the good.
Following the refreshment break, President Kath Lewis introduces the 2021 Bamford lecture. Dr Paul Johns, Neuropathologist and Reader in Clinical Neuoranatomy, St George's Hospital, London will talk about the Neuroscience of speech and language: the importance of early access to sound.
Our fourth keynote speaker is Professor Jason Warren, Professor of Neurology, UCL and Consultant Neurologist at the National Hospital for Neurology and Neurosurgery. Professor Warren will present on the 'cocktail party effect': An early warning sign for dementia?
After the lunchbreak and the last chance to see the exhibition and posters, we move back into parallel sessions with our final keynote from Professor Cynthia Casson Morton on Hearing Across the Lifespan in Generation Genome: Diagnostics and Management from Cradle to Grave or some free paper sessions from UK audiologists. President Kath Lewis will then officially end the 2021 conference with her closing remarks.
As in previous years we are delighted that our Platinum sponsors contribute to our programme with their own stream of talks over the two days, details of which will be released later once we have the information from our sponsors.