At last year's conference there were 100 posters on display. You can view or download the full abstract book here, or read the individual abstracts further down the page.
An integral part of the conference is always the free papers and posters. They provide the ideal opportunity for those working within the audiology field to share best practice, research, and network with colleagues. If you have a project or piece of work that you would like to share, then why not consider submitting an abstract for presentation as a poster or an oral presentation. This year we are thrilled to say that there are 10 slots available on the 2022 programme for oral presentations!
If successful, your research could be displayed at the conference, or you could present it orally to audiologists from the UK and beyond. This is the perfect opportunity to display your work.
Abstract submissions now open!
Submission deadline: 4th July 2022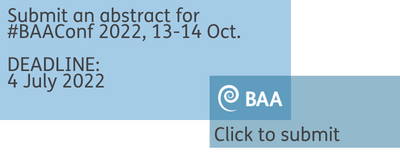 Abstract Categories:
Clinical
Education
Research
Service innovation
Workforce
Submission Guidelines & Terms
Title: Maximum of 25 words
Abstract: Maximum of 300 words
No tables can be inserted with your submission.
When submitting your abstract you will be asked for your preferred presentation method from:
Poster
Oral presentation (free paper)
Consider for both
Abstracts should be submitted in the following format:
Title
Introduction – this should be brief and include a statement of objectives or research question
Methods – a description of the methods used
Results – an outline of the results and data
Discussion – this should outline the implications of the results
References – list a maximum of four references
If your abstract is successful, you MUST register and pay to attend the full conference before 1st September 2022. If you are not registered by this date your abstract will be withdrawn from the conference. If you are not willing to pay, please do not submit an abstract. If you are a BAA student member and your abstract is accepted, you will qualify for free registration to attend the conference.
Before you submit your abstract look at this document to ensure you have all the information required: What information do I require before I start?
Instructions for Creating a Poster
If you are accepted as a poster presenter at the BAA conference, please find below all the specifications and information you should take into account before preparing your poster.
Posters MUST be A0 portrait (1189 high x 841mm wide) other sizes or shapes will not be accepted.
The title of the poster should be clear & unambiguous
The content of the poster should be accurately described
The design of the poster should be appropriate to the content i.e. posters about research should present the results and discuss limitations and relevance to practice
Content should be succinctly explained i.e. not too wordy
Any results should be clearly explained and presented appropriately
If you have any conflicts of interest, please ensure these are printed on the poster
Remember
To check the overall visual impact of your poster
Is there appropriate use of pictures and diagrams?
Have you remembered to use a large font i.e. 20+?
Does your poster explain itself?
Presenting your Poster
You may only use Velcro tabs to attach your poster to the board (these will be provided by the conference organisers)
Try to be available during the conference breaks to answer any questions raised by your poster but ensure you are at your poster at the designated time (see programme for timings)
You may wish to leave your contact details on the poster.
Poster Templates
Please see below three templates which can be adapted for your poster. It is not necessary to use these templates, but you may find them helpful.
IMPORTANT – Poster PDF
If your poster is accepted for display, we ask that you also submit a PDF version. This is to allow posters to be judged online and for delegates to view with ease during/after conference.
You can submit your poster PDF via this link no later than 4th September 2022: https://fitwise.eventsair.com/2022-baaconf/posterpdf
Please note – You are still expected to bring your hardcopy poster along with you to conference. This should be displayed as A0, portrait. There will be no printing facilities onsite.