Comparing cochlear implantation to acoustic hearing aids for 
adults just outside NICE guidance for cochlear implantation (COACH)
COACH is a high quality clinical trial that is needed to know whether NICE guidance for access to cochlear implantation is right. COACH is open and actively recruiting but is behind schedule. You can help by giving information (via posters, leaflets, or our website) to your patients, so they have the opportunity to find out more.
Please give COACH information to hearing aid patients who: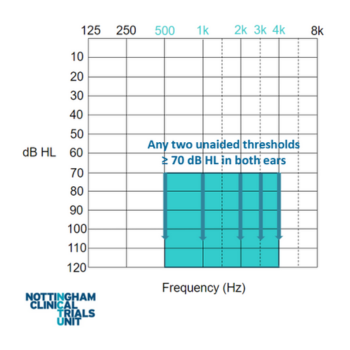 • Are 18 years or older
• Have post-lingual acquired or progressive bilateral sensorineural hearing loss (symmetric or asymmetric)
• Have one or two well-fitted acoustic hearing aid(s)
• Have good spoken and written English language skills
• Are able to give informed consent
It doesn't matter whether they have previously been assessed for cochlear implant eligibility.
Find out more and get resources:
Website: www.coachtrial.ac.uk
Email: coach@nottingham.ac.uk
COACH is a registered, NIHR portfolio adopted trial. ISRCTN: 15352106. IRAS Project ID: 297574