<5% of people who could benefit from a hearing implant actually receive one*
Cochlear are excited to announce the launch of a series of free educational webinars on hearing implants. These webinars are ideal for you and your department to stay current in your learning during this time.
The webinars will focus on the patient journey and are aimed at audiologists/ENT/other hearing health professionals who do not work directly with hearing implants.  However, anyone and everyone is welcome! Our presenters will focus on a variety of topics relevant to hearing implant candidacy and criteria, patient counselling and how to refer for an assessment.  There will be a recorded section followed by a live Q&A session.
Getting into the swing of Baha – Thursday 4th June, 1300 BST
How to get into the swing of Baha – we will give an overview of Baha candidacy looking at the different hearing loss indications. Concluding with a review of Baha system options available and the features and power of the range of Cochlear Baha 5 sound processors.
Email us at UKLearnNow@cochlear.com for more information.
Don't forget to register – even if you miss the live session you will be able to catch up with the recorded session at a later date.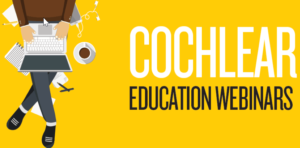 *De Raeve L. Cochlear implants in Belgium: Prevalence in paediatric and adult cochlear implantation. European annals of otorhinolaryngology, head and neck diseases. 2016 Jun 1;133:S57-60.