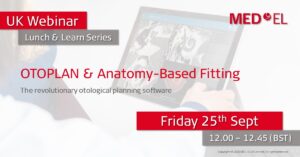 Lunch & Learn Webinar: OTOPLAN & Anatomy-Based Fitting
Friday 25th September, 12.00 – 12.45 (BST)
You can join Andrew Neale (Senior Clinical Specialist, MED-EL UK) as he discusses OTOPLAN, the revolutionary otological planning software that helps surgeons quickly generate customised 3D models from patients' CT images and accurately plan the intervention.
With its electrode visualisation tool, electrode arrays can be compared to match the patient's individual anatomy. Used in conjunction with MAESTRO fitting software, OTOPLAN allows audiologists to create anatomy based fitting maps that can then be used by the patient in their audio processors.
This webinar will give a brief overview of the OTOPLAN software and some of the new features in the 3rd generation release.
Book here: https://www.surveymonkey.co.uk/r/otoplanandanatomybasedfitting