We were delighted to join the recent CSO webinar which presented awards to several well-known UK Healthcare Scientists (and their teams) in the Audiology field.
Congratulations to Professor Chris Degg, Head of the Evoked Potentials Department at Nottingham Universities Hospitals NHS Trust,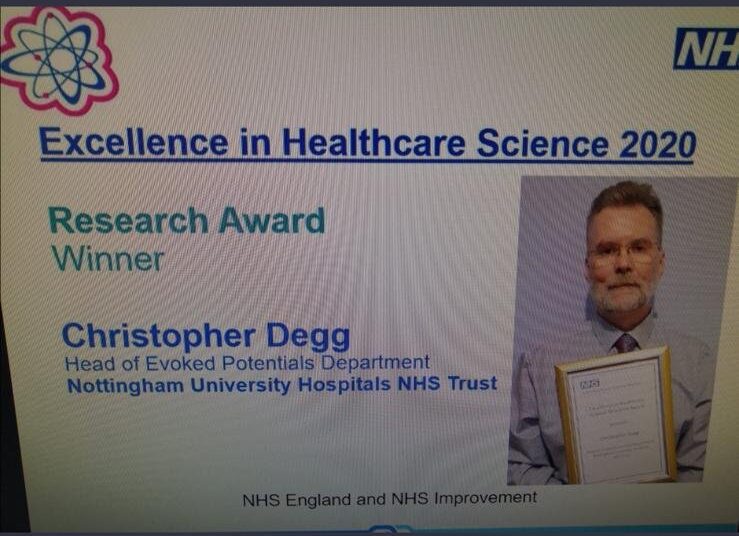 for his Research Award in the Excellence in Healthcare Science Awards from the CSO Englands Office, NHS England and NHS Improvement.
And congratulations to the Audiology Service at University Hospitals Plymouth NHS Trust, led by Head of Department Adam Beckman, for their Delivery Award in the Excellence in Healthcare Science Awards.
The team in Plymouth were able to switch to remote working with patients very early in the first lockdown in 2020, thanks to work that had started long before Covid and lockdowns were common knowledge. Not only did this benefit hundreds of people in Plymouth, but it also benefited BAA members as Adam, a past President of BAA, was happy to share all the processes and documentation they had developed for the remote working model during one of our early Heads of Service webinars and with documents on our website.
Here is the announcement from the awards webinar:
You all know that hearing aids often need adjustment or fine tuning after fitting – and that means an in person appointment.  That can be tricky, especially for older people in rural locations with poor transport services
Long before COVID, the audiology services at University Hospital Plymouth, which covers a very wide area, had begun to explore new technology from the hearing aid manufacturer GN ReSound.  It allows hearing aids to be paired to a smartphone or tablet and, genius idea, adjustments can be sent from the hospital to the patient's phone on the cloud.  Like I said, genius.
UHP had completed all the information governance, patient information and staff training work and were planning to launch the service – the first of its kind in the UK –  in April 2020.  And then along came COVID. And the need for remote working suddenly became acute, especially given that those most likely to have aids were the ones at highest risk of COVID.
The service was able to introduce new pathways at pace. Hearing aids were able to be posted to patients, having been programmed based on predicted amplification requirements, with the knowledge that both patients would be able to have greater control themselves via the app and that the audiology team could make adjustments as needed.
Now I know what you are all thinking.  Older people.  Smartphones.  How's that going to work.  Can they cope or would they inadvertently find themselves pairing with nextdoor's smart doorbell.  People –  they took to it like ducks to water.  The oldest patient using the system is 96 and it has legions of fans like 82 year old Edward Gigg from Plymstock.  He said I found the app very simple to use and didn't have a problem downloading it."It's definitely better than going out during lockdown and I hope that it will carry on after this period to save making journeys back and forth to the hospital."
Over 850 patients have consented to the option of remote hearing aid assistance, with over 150 remote fine tuning adjustments being carried out. The service has gone down a storm and, hear this, waiting times have been virtually eliminated.
UHP is the first service in the UK to offer this asynchronous remote assist and are now providing support to professional bodies and other services to introduce their own systems.