The updated Covid-19 guidance from the UK Government, issued on Monday 11th May, recommends the use of face coverings. The Department of Health and Social Care press release says, "After careful consideration of the latest scientific evidence from the Scientific Advisory Group for Emergencies (SAGE), the government confirmed face coverings can help reduce the risk of transmission in some circumstances." The guidance advises the public to consider wearing face coverings in enclosed public spaces where you may be more likely to come into contact with people you do not normally meet.
Professor Chris Whitty, Chief Medical Officer said: "Wearing a face covering is an added precaution that may have some benefit in reducing the likelihood that a person with the infection passes it on. The most effective means of preventing the spread of this virus remains following social distancing rules and washing your hands regularly. It does not remove the need to self-isolate if you have symptoms."
However, face coverings provide yet another challenge for people with hearing loss.
Unintended consequences of face masks during Covid-19
An article by Professor Kevin Munro, Ewing Professor of Audiology at Manchester Centre for Audiology and Deafness (ManCAD), published in The Conversation, highlights the unintended consequences of face masks during Covid-19. He has also had a letter featured in the Letters pages of The Telegraph which highlights the challenges of face coverings for people with hearing difficulties.
On Friday (15th May), Prof. Munro will continue that conversation in the first ManCAD Journal Club, with a discussion on 'Face mask misery: do face masks impair speech understanding?'
Journal clubs are very informal, comprising a short presentation followed by a discussion of thoughts and ideas arising from the paper discussed. The paper  Atcherson et al. (2017). The Effect of Conventional and Transparent Surgical Masks on Speech Understanding in Individuals with and without Hearing Loss (2017). J Am Acad Audiol 28:58–67 (2017) will be sent to you when you register your interest in participating in the Journal Club.
If you would like to take part please email gabrielle.saunders@manchester.ac.uk
You will be sent a zoom link to the meeting and a copy of the paper being discussed. You can read it in advance if you like, but this is certainly not a requirement.
Downloads:
Government guidance here.
Prof. Munro's article in The Conversation here.
An article from The Hearing Review here.
And, for those without a subscription to the Telegraph, you can read Kevin Munro's letter below: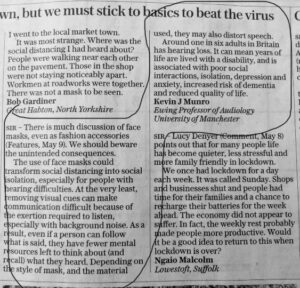 Several articles from people with hearing loss have also been published: