BIHIMA has released Q2 data on hearing technology market figures showing that hearing instrument usage has dropped after a record high Q1.
UK market units face a considerable decline from a high in Q1
NHS market size down 25% from Q1
Rechargeable products steadily continue to rise in UK and ROI
BIHIMA – the British Irish Hearing Instrument Manufacturers Association – has released the latest Q2 2023 data on hearing instrument usage in the UK and the Republic of Ireland (ROI), with a significant drop from a high in Q1.
While private units in the UK were higher in Q2 2023 compared to 2022 (with an increase of 6%), they are slightly down (0.5%) on Q1 2023. However, the most substantial loss was found in NHS units. From Q2 2022 to Q2 2023 units dropped by 1.3%, with a far higher decline of 25% between Q1 2023 and Q2 2023. This substantial drop has had a ripple effect on overall records for the full market data.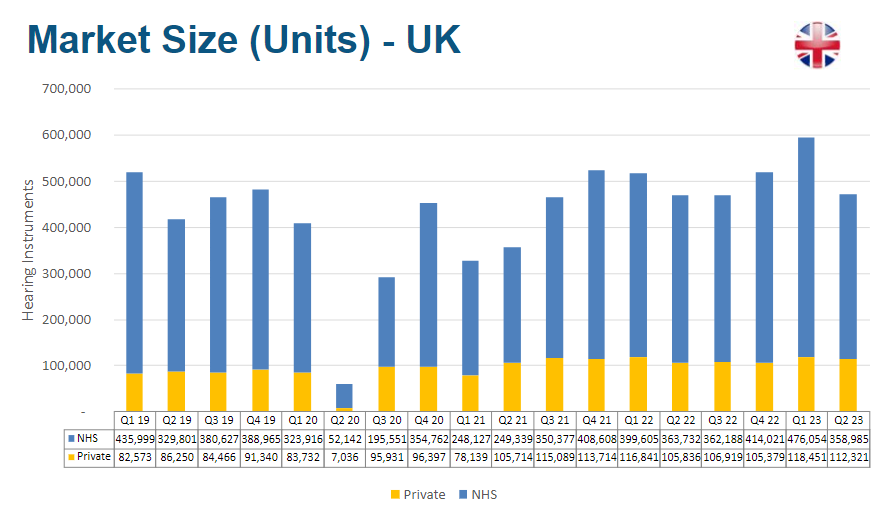 Commenting, Paul Surridge, BIHIMA Chairman, said:
"We saw encouraging growth at the start of the year but the dip in sales data for Q2 shows how changeable the market can be. We believe a combination of factors have come into play here; we had extraordinary NHS buy-in for Q1 but are now in the midst of a changeover of contracts that came into effect in April, compounded by NHS supply chain challenges throughout April and May."
That said, rechargeable products are continuing to rise outside of the NHS. UK units are creeping up quarter on quarter, with ROI units now over 50%.
"It's promising to see a steady growth of rechargeable hearing instruments. While the initial investment is higher, wearers save money in the longer term," said Paul.
The Irish market also experienced a drop this quarter – it was down 1% over the same period last year and 8.7% on the previous quarter.
"While the ROI data is down, it's important to note that – overall – it is still up on the preceding three years. We're confident that hearing instrument uptake will remain strong and consistent throughout the rest of the year." said Paul.
Download the full Q2 report here.